Policy videos are part of a new trend in which policy makers complement the traditional "white paper" with multimedia content. Videos like this one share policy positions through personal stories, visually compelling perspectives, and engaging content for a broad range of audiences. It also gives government executives a powerful tool that they can share with members of Congress, State legislators, other budget and policy decision makers, and constituents.
Policy videos as a communications tool for state and federal government leaders
In 2015, MiniMatters collaborated with ICF International, High Street Consulting, and Parsons Brinkerhoff to complete the project, "The Role and Value of Transportation in America's Economy: Four Case Studies About How Economic Growth is Creating New Transportation Needs." The project was requested by the American Association of State Highway and Transportation Officials (AASHTO)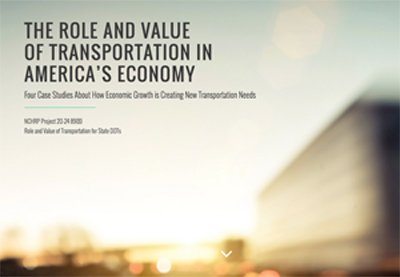 and was intended to assist CEOs and other top managers at state Departments of Transportation. It was completed under the guidance of the National Cooperative Highway Research Program of the Transportation Research Board Project 20-24, which is part of the National Academies of Sciences, Engineering, and Medicine. This timely study addresses issues important to state departments of transportation and transportation professionals at all levels of government and the private sector.
Transportation videos focused on agriculture, e-commerce, domestic energy, and the millennial workforce make a compelling case for public investment
This first of four policy videos focuses on transportation's crucial role moving U.S. farm products to markets both near and far. Through the telling of this story, viewers can easily see how farmers and related agricultural businesses depend on the current transportation systems all along the supply chain. Viewers are also challenged to keep this transportation infrastructure maintained and up to speed, so U.S. farmers can continue to compete in a global economy. The other three videos tell similarly compelling stories about how the changing economy requires changes in transportation investments. They include the rise of the millennial workforce, e-commerce, and domestic energy production.
Policy makers are turning to video because it:
Visually tells the story of policy impacts on individuals in a way that written reports with a lot of tables and numbers can't
Supplements and dovetails with other communication formats, such as briefing papers, white papers, and infographics, as in this project
Is shareable, serving as as a tool that people can quickly share with those making policy and budget decisions, such as members of Congress and senior executives in state and federal government
MiniMatters' role in policy videos
As an integral part of this project's video team, MiniMatters provided storytelling, scripting, filming, voice-over, and editing services. Once finalized, this video was added to the project website, so people can link to it in email and social media posts. MiniMatters' principal, Barbara Haupt, brings a strong background in public policy and economics and was able to help craft many of the messages on the overall project website, as well as in the videos.
DC Video production services for policy matters
MiniMatters is a certified women-owned business, serving government, government contractors, associations, foundations, nonprofits, and businesses primarily in Washington, DC, Maryland, and northern Virginia, but also in other areas of the country. We have served in the roles of prime contractor as well as sub-contractor.
Get Estimate Now
Are you looking for a video production company to help with your video communications?
We can assist you with inspiring ideas, powerful storytelling & professional production.
Get Estimate Now