Recording a presentation with video can be customized to your number of speakers, desired layout, colors, branding, text — and in a way that is far more dynamic and professional than a standard Zoom, Teams, or Webex recording. In this blog post, we show you what this can look like and how it works.
Customize the layout and look of your recorded presentation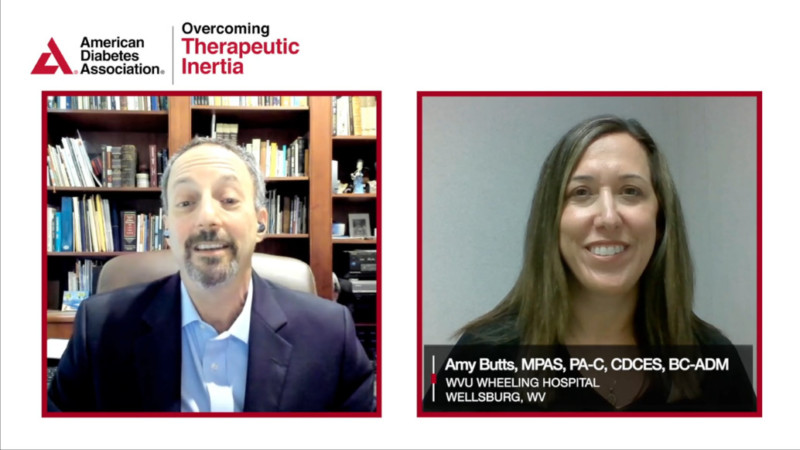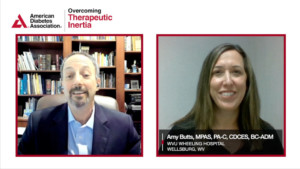 If you've found recording presentations on Zoom, Teams, Webex or another standard platform to be limiting, MiniMatters has a good solution for you. Maybe you want better control of how the speaker(s), PowerPoint slides, or text are laid out on the screen. Maybe you'd like a custom backdrop or color. Perhaps you want a better quality recording where the video isn't lagging behind the audio. Or maybe you want to switch smoothly between the speaker and PowerPoint slides. The MiniMatters Virtual Recording Platform offers all these possibilities and more.
Here are just a few ways we can customize your recorded presentation and make it more engaging than a standard recording through Zoom or another common platform:
1. Single or Multiple People
We can set up a "virtual studio" with one person or multiple people in almost any layout. The two sample layouts shown, including two people on camera, are from a suite of videos we recorded and produced for the American Diabetes Association.
2. Background Color and Image
We can change the color of the background or use a custom image, as well as customize the shape and color of the framing around each speaker.
3. Logo and Branding
We can place your logo anywhere on the page and can use your font for any text. In this sample, you can see the logo of the American Diabetes Association at the top left of the screen, with the Professional Education sub-branding to the right of the main logo.
4. Presenter and PowerPoint Slides
We can show one or multiple presenters, along with the PowerPoint presentation. We can show the PowerPoint slides in various sizes — either partial-screen or full-screen.
5. Switching between People and Slides
We can switch between presenters and the PowerPoint slides throughout the presentation, making it more interactive and engaging.
How does it work for your presenter?
The recording of the online presentation is produced much like a television news show. Imagine a TV anchor taking up the full screen. Then she invites a guest to participate and speak — at which point you can see the two people side-by-side. If the guest is talking at length, you might see that person switched to a full screen. All of this happens because a behind-the-scenes producer and team are switching between speakers and images. The MiniMatters Virtual Studio and Recording Platform operates in much the same way.
Take a look at this video we produced, below, to see how we can switch between speakers.
Here's how it works. We'll also send an instruction and tip sheet to each participant in advance.
MiniMatters designs your custom "virtual set." Before the recording session, MiniMatters will design a "set" which is the layout for your video recording. It will be customized for the number of people appearing in the presentation; the placement of any PowerPoint slides or other graphical elements; and your organization's colors, logo, and branding.
Each presenter or observer has their own link. MiniMatters will send each presenter a unique URL. The presenter clicks on that link at the time of the recording session using Chrome or another browser. At that point, they are in the "virtual studio." If there are other people who would like to sit in on the recording session, but who will not be shown or heard in the presentation, they can join the session, too. Each person will have a unique link.
A producer at MiniMatters will control the recording session. The producer will work with each presenter to ensure that they look and sound good. Once the recording begins, the producer controls who appears on the "program output," which is the part that's recorded. (We can also capture each individual person separately, should we need that later.) The producer will coach everyone through the recording and can do retakes as needed.
Sharing PowerPoint slides in the recording. If the presenter will be presenting a PowerPoint presentation, we can show those slides on the program output in one of two ways. The presenter can share their slide deck directly (we can provide more details on how that happens) or the MiniMatters producer can share it for them. There are pros and cons of each approach, which we can discuss with you. We can make either method work.
Editing presentation after the recording session. After the recording session, MiniMatters will edit the presentation as needed. That may involve removing parts, adding titling or "lower thirds" that identify speakers, adding intro and closing music, etc. Together, these edits will polish your presentation.
Your organization can benefit from a virtually-recorded presentation
Now that we've shared how it works, here are a few of the many times virtually-recorded presentations can be especially useful:
For producing online Continuing Education Units (CEU) or Continuing Medication Education (CME) courses
When presenters can't travel to be filmed in-person due to scheduling, health, or financial reasons
When two or more presenters are at different locations but need to be recorded together
In cases where presenters need the flexibility to record either at home or a work office
When you need better control over the look and layout of the final video, especially to reinforce your organization or event branding
Get a better quality recording presentation with video
If you want to record your presentation with video in a much more professional way than Zoom, Webex, or Meetings recorded presentations, please contact MiniMatters. We've produced dozens of online recorded presentations for a variety of purposes — and we can help you, too.
Video Production Services
Video Production with Professional Filming

Video Editing

Scripting & Storyboarding

Video Distribution on YouTube & Other Online Platforms

Video Captioning and Subtitles

Communications and Marketing Strategy

Writing for Fundraising

Blogging & Social Media Outreach

Graphic Design

Animated Videos
Get Estimate Now
Are you looking for a video production company to help with your video communications?
We can assist you with inspiring ideas, powerful storytelling & professional production.
Get Estimate Now