ReelSEO has pointed out an interesting finding from Adobe's 2013 Video Benchmark Report — that video marketing on the blogging site, Tumblr may be valuable. Sometimes overlooked, Tumblr kind of straddles the social media definitions. Like WordPress, it's a blogging platform. Like Twitter and Facebook it tends to run to short bits of information. And like Pinterest it's dominated by visual media. Yahoo bought the site in May 2013 for $1.1 billion.
Facebook is driving most video starts from social media (80% while Tumblr drives fewer than 3%), that is, more people are clicking on videos and/or watching the first second or two from Facebook than any other social media.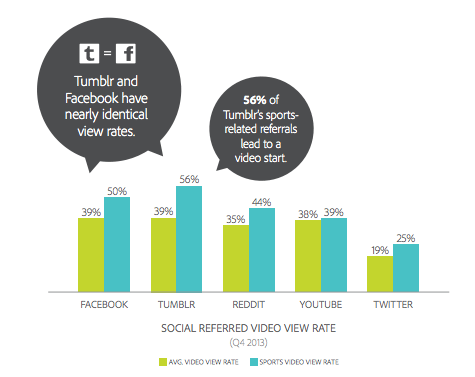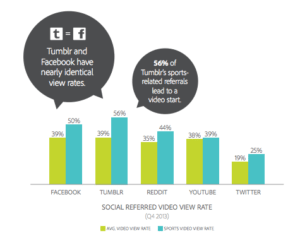 However, when Tumblr does drive video starts it has very strong penetration. Thirty-nine percent of video starts from Tumblr become a video view, a view that YouTube considers verifiable (they purport to screen out counting views by computers), which is as strong as Facebook. Surprisingly, it's stronger than YouTube, where only 38% of video starts became a video view.
Nonprofits are using Tumblr for video marketing
Tumblr is a highly visual medium, and this may be why video marketing on Tumblr yields such strong results. The most common use is to have a visual element and a very small amount of text. Boston.com, the Boston Globe's website, has an active Tumblr page and Twitter. What it says about the distinction illuminates Tumblr's role: the About page says, "This isn't about breaking news in Boston (check us on @bostonupdate on Twitter)…. But it is about the world we live in."
The World Wildlife Fund's Tumblr goes back to February 2011. They post a good deal of amazing photos of wildlife, but also include imagery related to conservation. And, yes, they've posted video—this one which they posted in December shows a baby elephant learning to use her trunk. There's no way for us to know what portion of the 84,000+ views the video has on YouTube came through Tumblr, but it may be substantial:
The Anti-Defamation League and LeanIn.org both have active Tumblrs. These organizations not only post video content but also curate—post others' videos. The ADL recently linked a Human Rights Campaign video.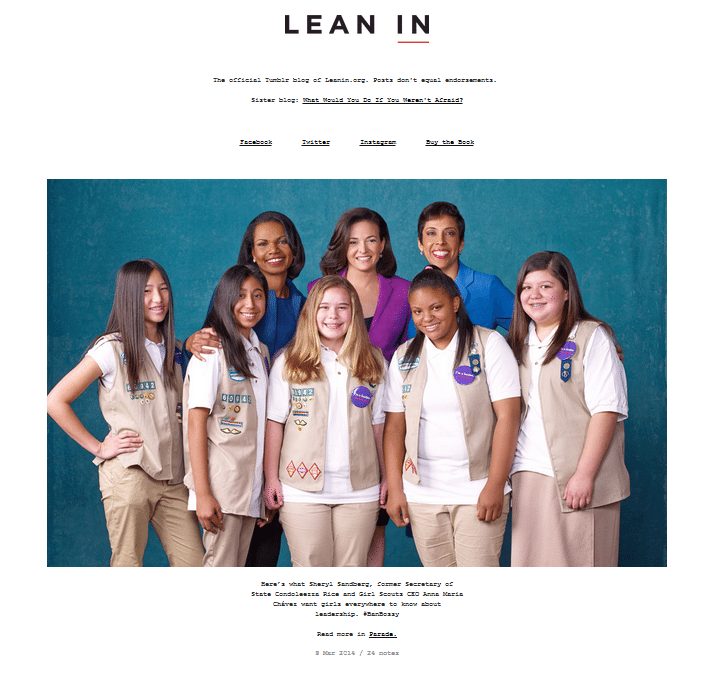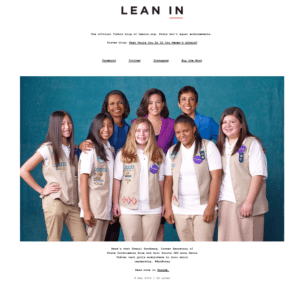 LeanIn linked a video from MAKERS, which showcases videos from "the Women Who Make America." In this way, using Tumblr for video marketing may not only be about your own videos.
The bottom line about using Tumblr for video marketing
Facebook is definitely ahead of Tumblr by any measurement, and Twitter and Reddit both drive significantly more traffic to video than Tumblr. And if video is important to you, there's no way to go without YouTube. If you're allocating limited resources, you may not get to Tumblr. However, if Reddit's aggressive style isn't right for your organization and you have time for YouTube, Facebook, Twitter and one more, consider these facts about Tumblr:
Tumblr is about evenly split between men and women. (From Pew's 2012 report.)
Tumblr skews young, a group that's starting to fall away from Facebook. Thirteen percent of 18- to-29-year-olds told Pew they used the service. (Also from Pew.)
More links on Tumblr are likely to help your search engine optimization. This is because they are dofollow rather than nofollow. (Almost all Facebook links are nofollow.) This distinction refers to whether a  search engine such as Google will use a link to determine your site's popularity.
Have you tried Tumblr? If so we'd love to hear about your experience.
Top image courtesy Adobe Digital Index
Get Estimate Now
Are you looking for a video production company to help with your video communications?
We can assist you with inspiring ideas, powerful storytelling & professional production.
Get Estimate Now