The video incorporates diverse voices talking about the benefits of Capital Caring's innovative telecaring program. The voiceover fills in the missing pieces, making for a smooth and persuasive message.
Voiceover has several key benefits
The voiceover in the video below which we produced for Capital Caring provides three key advantages:
It conveys a sense of objective truth
It fills content gaps the interviews and footage had left or partially left
It lends a cohesive voice that runs through the whole video
All of us have been listening to voiceover in televised sports, documentary film, movie trailers, and other kinds of video all of our lives, and we tend to trust a good voiceover. This trust goes back to radio, where the voiceover was invented.
As we wrote last week in relation to scripting, a balance between authentic voices and crisp professionalism enhances many types of video. A professional voiceover as an element in your video can help you achieve this balance. Blending the voiceover with unscripted statements can have a lot of power. By emphasizing the unscripted nature of interview excerpts, the voiceover can make their authenticity stand out.
Choosing a voiceover artist
If you have decided on a voiceover, how do you choose what kind of voiceover artist to use? What are the pros and cons of a male, female, older or younger voiceover artist? Culling from some interesting research on the impact of the gender of voices in advertising, we can offer these insights:
A Harris Interactive/AdWeek Media poll found that people consider female voices more persuasive and soothing, and male voices more forceful. This poll also revealed that for big-ticket items, such as a car or a computer, people said they would be more likely to purchase a product sold by a male voice. This may mean that a video seeking smaller, regular gifts or to engage a viewer with the organization brand could work better with a female voice, but a video seeking a one-time major gift or purchase might work better with a male voice. (It's really important to note, however, that almost 70 percent of respondents said that the voiceover would have no impact on a purchasing decision.)
Another study found that when a researcher digitally altered a voice for pitch and had people respond to "I urge you to vote for me," respondents found deeper voices (both male and female) more  persuasive. If your video is focused on political advocacy and getting people to commit to your cause, a deeper voice could be preferable.
Various research studies also show that matching the gender or age of a spokesperson to the perceived gender of the product advertised is effective, and this may apply if your message or organization has an inherent gender.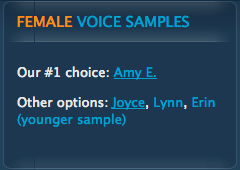 In choosing and working with a voiceover artist (or your own staff serving in that role), you should also recognize that clarity, enthusiasm, emotional connection with the content, perceived expertise and other factors, including accent, can be more important than the age or gender of the voice.
There are a number of services to connect with diverse professional voiceover talent. We like to use a service that allows us to audition professional voiceover talents using part of our client's script. Working with our clients, we select a basic gender and age and key adjectives— "believable," "professional," etc. that may be suited to a video's goals and audience demographic. We then cull through the auditions and offer a few for our clients to consider. Some clients even test options directly with a few members of their target audience. We'll then coach the voiceover talent to get just the right tone for the video's goals. It's a system that works well, and delivers a great return on investment.
Get Estimate Now
Are you looking for a video production company to help with your video communications?
We can assist you with inspiring ideas, powerful storytelling & professional production.
Get Estimate Now