Planned Giving Videos Put Your Donors at the Center
Video is a compelling tool for planned giving fundraisers, helping you demonstrate the lasting impact donors can have for a cause or organization they care about. It can be one of the most donor-centric approaches you can use.
Planned giving videos we produce for clients like you range from donor story videos that draw out the unique connections between donors and your organization; to sets of simple, economical donor testimonials; to customizable animated planned giving marketing videos that provide perfect material for an enewsletter or eblast and can be produced in less than a week.
Storytelling Videos – The power of the personal story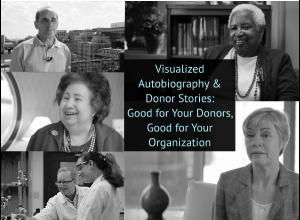 What they are. Donor Story Videos are highly customized videos that tell the personal stories of individuals and their passion for your organization. Videos often document the life of the person and their connection with your organization over time.
Benefits. These poignant, compelling stories are deeply engaging for your donors, as they help them picture their own lives and how a legacy gift to your organization will help them have an enduring impact. As an added benefit, the production of this kind of video very often deepens the featured person's commitment to your organization. The research of Dr. Russell James has shown the effectiveness of visualized autobiography in planned giving marketing.
What you get. Videos are created through in-depth personal interviews and include historic photos, current photos and b-roll. 3-5-minute video, produced with three review cuts and one final cut. Videos include your organizational branding, animation of your logo, royalty-free background music, delivery in your preferred file formats (for YouTube, large-screen events, iPad, etc.), and advice on distribution of the video through email, social media and YouTube.
Testimonials – An ideal lower-budget option
What they are. Videos featuring a single individual with one continuous, or near-continuous clip.
Benefits. Provides you with the potential for a large number of videos that can be rolled out during the year to provide multiple "touches" through email campaigns, social media, your website, and your YouTube channel. Easy and economical to produce when you have a large number of stakeholders gathered for another event and therefore you are able to film many people over a short period of time.
What you get. Videos are created through brief 5-10-minute interviews. Final video of up to 90 seconds, produced with one review cut and one final cut. Videos include your logo, delivery in your preferred file formats (for YouTube, large-screen events, iPad, etc.), and advice on distribution of the video through social media and YouTube.At MiniMatters, we've made scores of planned giving videos and can help you with yours. Because our team has expertise in both planned giving and video production, we can help craft a message that is both strategic from a fundraising view and produced well from a video angle.
Customizable Animated Planned Giving Videos – Action-Oriented, Great for E-Newsletters, Ready in a Week
What they are. Easy, affordable, and vertsatile planned giving videos customized with your organization's branding, information and call to action.
Benefits.
A customized, well-messaged video for under $700!
Concise, effective planned giving messaging
Addresses the often overlooked area of beneficiary designations
Branded with your organization's colors, tax id#, call-to-action, and more
Upload to an online video platform like YouTube and then embed your video or link to it from almost anywhere.
What you get.
Approximately 30-second custom video incorporating your branding and planned giving marketing messaging
License to use the video for an indefinite period
High-quality mp4 format suited for uploading to platforms like YouTube and for playing on on varied devices
Delivered quickly via email within three weeks of uploading your materials and placing your order
Easy to order. Just click at www.plannedgivingvideos.com.
Get an Estimate
Now Is a Great Time

MiniMatters can help you with fundraising video, nonprofit video, or other video production needs.
We serve associations, foundations, nonprofits, and businesses primarily in Washington, DC, Maryland, and northern Virginia, but also in other areas of the country.
Get an Estimate