True. We were struck by this NTEN infographic, first published in 
NTEN: Change
, June 2012 (shared here under their Creative Commons license, 
CC BY-SA 3.0
):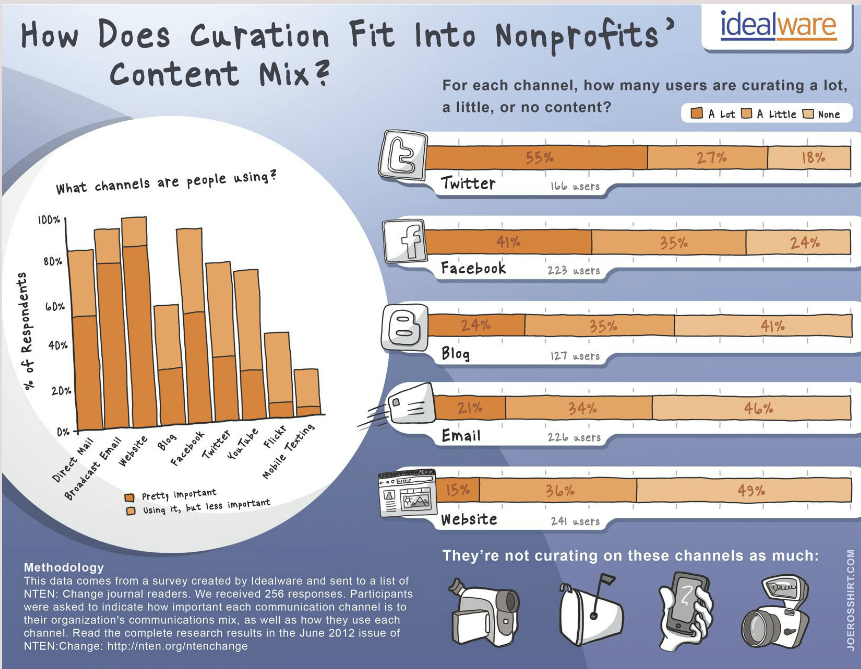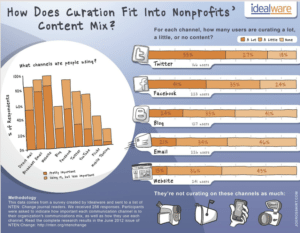 We at MiniMatters naturally took particular note of YouTube's presence on the left part of the graphic, indicating that about three-quarters of respondents' organizations are using YouTube to share their own video, and its absence on the right, indicating that respondents aren't curating through YouTube—that is, sharing others' videos through their YouTube presence. Right now, YouTube is a little messy and unprofessional. The name invokes kitty videos and other jokes, and it doesn't have a very "institutional" or "organizational" feel. Yet let's remember that Facebook was messy and unprofessional at one time, but it's now a very influential forum. It seems to us that there's every sign that YouTube may grow up, too. Consequently, we recommend that organizations that want a cheap way to be at the forefront and that have relationships to build, start curating on YouTube. If your organization has organizations as members, why wouldn't you be sharing those organizations' videos through YouTube? If your organization is a network or an association, your YouTube channel can become a town square with your own content central and members' content getting a place at the table. It's a visual representation of how much stronger you are when you work together. And we predict that this point of view is going to outshine kitty videos very soon. Which is one reason we offer
YouTube Channel management
services.
If MiniMatters can help you use this tip or serve your other video needs, we'd love to talk with you at 301-339-0339 or via email at 
[email protected]
.