You've likely seen an ASL Commercial with Picture in Picture of an American Sign Language interpreter. With critical public health and safety messages, it's important to reach all groups in society–and this includes Deaf and hard-of-hearing people. If you have a commercial, PSA, or film that needs an ASL (American Sign Language) interpretation, this blog post highlights important factors you should consider.
Inclusive ASL commercial with picture in picture
This fantastic and timely video was produced for the #BaltimoreVersusCOVID campaign by Dave Cooper Films. Their production company came to MiniMatters to create the ASL inset due to our expertise in ASL video. MiniMatters also helped with their production of a 90-second version.
MiniMatters' ASL video production tips
1. Secure appropriate interpreters.
In this example, the ultimate client, the Baltimore City Health Department, had requested a Certified Deaf Interpreter (CDI) to sign the content on screen, so that it would truly be in the native language of the local Deaf community. Another type of native ASL interpreter is a CODA–a hearing Child Of Deaf Adults. There are a variety of recognized certifications for non-native interpreters, too. Being aware of these interpreter options is essential for securing interpreters suited to your audience and purpose. MiniMatters has a long-term partnership with an interpreting agency that enables us to secure talent locally and nationwide as needed.
2. Provide the materials and time for the interpreter to "gloss" the script and prepare for the filming.
Glossing is a preparation step in which the interpreter reviews the script, asks clarifying questions to ensure correct understanding of the material, and prepares a teleprompter-ready file with their notes and other prompts. The interpreter then refers to this "gloss" during filming. Depending on the terms and concepts to convey, as well as the ASL proficiency of the target audience, projects will require different levels of pre-filming review and glossing. Allocating adequate time for this preparation is critical for efficient filming.
3. Create a set appropriate to ASL video filming.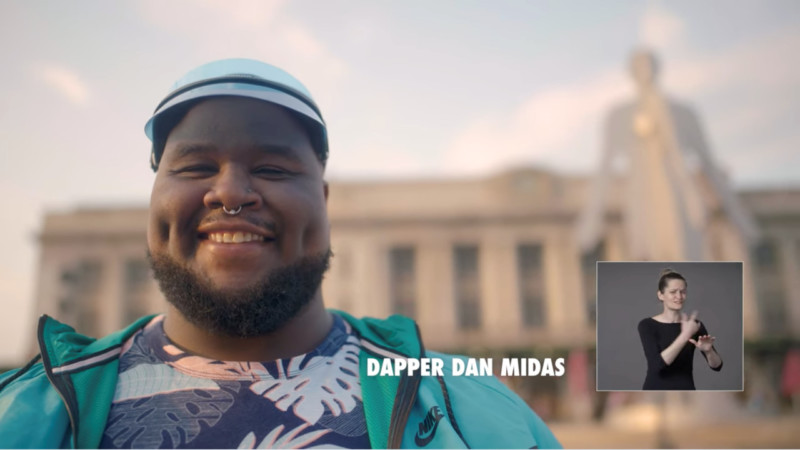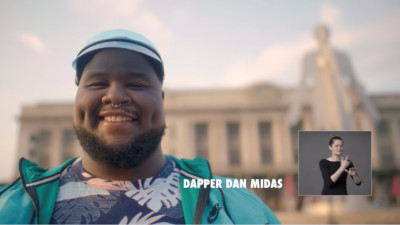 As in this video, we use a well-lit gray backdrop that provides appropriate contrast to the interpreter, who we request to wear black, ¾ length sleeves (if light-skinned). The visual aspects and contrast are very important for ASL filming so that signs can be seen as clearly as possible.
4. Require a film crew experienced with ASL filming.
Our experienced camera crew and producers ensure that signs all fit within the needed frame with no hands going out of frame. Signing to camera is different than signing within a conversation, so we will also keep an eye out to ensure signs are visible from the front view of the camera. For this commercial where synchronization of the signing with the commercial is needed, our team set up the equipment so that the commercial and teleprompter could be viewed simultaneously by the interpreter.
5. Film and check the interpreting.
Because ASL has a unique structure different than written or spoken English, changing facial expressions, direction and speed of hand movements, and other non-verbal cues give similar-looking signs different meanings. Quality control is critical when translating spoken or written English into ASL, so the correct messages are conveyed. Therefore, having production team members who are Deaf or hard-of-hearing and use ASL as a first language, as well as people who are hearing and fluent in ASL, helps create successful ASL videos. When MiniMatters works on ASL for educational assessments, for example, the quality control process is quite extensive.
6. Deliver high resolution footage.
We have a variety of methods to provide the footage quickly to any video production clients.
7. Advise the production company on best practices for incorporation of ASL footage, as well as checking of final product.
For instance, we recommend planning for the ASL component in advance so that the ASL "picture in picture" box can be seen clearly but does not interfere with the original video. It's also good to have a final check of the edit to make sure signs are not cut off in any way.
MiniMatters creates many kinds of inclusive videos
When you have important information to share with your audience, being as inclusive as possible matters. MiniMatters has produced more than 1000 ASL videos used as accommodations for Deaf and hard-of-hearing students on state assessments. And we produce videos in multiple languages. For example, we produced this video in Spanish as well as English for the American Pharmacists Association's #VaccineConfident project, funded by the Centers for Disease Control and Prevention.
Explore how MiniMatters can help your videos reach all your audiences by Requesting an Estimate!
Video Production Services
Video Production with Professional Filming

Video Editing

Scripting & Storyboarding

Video Distribution on YouTube & Other Online Platforms

Video Captioning and Subtitles

Communications and Marketing Strategy

Writing for Fundraising

Blogging & Social Media Outreach

Graphic Design

Animated Videos
Get Estimate Now
Are you looking for a video production company to help with your video communications?
We can assist you with inspiring ideas, powerful storytelling & professional production.
Get Estimate Now