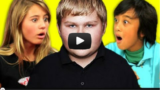 False.
Fine Brothers Productions, the makers of "Kids React to…" videos, use the opinions of ordinary kids. They have 1.5 million subscribers to their YouTube channel; they post new "Kids react to…" videos like the one below every week. In fact, the "Kids React to…" series  won a 2012 Emmy for best viral video series with videos like this one:
Most organizations can create their own "Kids react to"-style videos without a lot of money. For example, it's possible that kids or even adults have valuable insight on certain issues that your organization works on. If you're working on a healthcare, for instance, why not solicit nurses' reactions, or patients' reactions? If you're working on a business-related issue, perhaps you could gather the reactions of small business owners. Education: teachers, kids, parents. There's a lot of possibilities. "Kids react to…" tends to focus on popular culture, but it's an intriguing and easy video format that just might help you engage your audiences.
If MiniMatters can help you use this tip or serve your other video needs, we'd love to talk with you at 301-339-0339 or via email at [email protected].