We're pleased to present on the subject of YouTube Marketing this time next week at the Rockville Women's Business Center. If you're reading this blog, we hope you may be able to join us. We'd love to connect there. We're also hoping more generally that our audience may include potential partners. Video partnerships are a growing trend, and we'd like to talk about them in this week's post.
Video Partnerships
Back in August, Edelman, the world's biggest PR firm, announced with much fanfare a video partnership with Poptent, a global video crowdsourcing company. This high-profile partnership is just one example of PR, marketing, web design, and other firms securing video partnerships in order to enhance their capabilities and bona fides in the video field. Whether PR, web design, or blogging and social media marketing—so many of the communications sub-fields have come to encompass video and even
require
savvy video production and video marketing strategy for success.  This trend is drawing MiniMatters into partnerships with exciting firms across the communications spectrum.  Here are just a few of the types of partnerships we are seeing.
Video Web Design Company Partnerships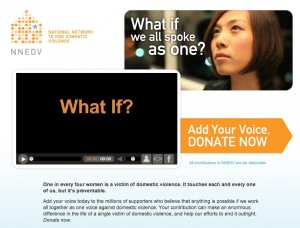 These days redesigning a website almost always involves creating a space for video.  Whether clients want to launch a new brand or just to communicate more effectively, they want video products and ways of presenting video that integrate cohesively with a new site launch.  They know that shoehorning old video (or subbing stock images in slots that could have video) does not create a seamless dynamic experience for the viewer.  Video companies like ours that have expertise in web design can work with a web design firm to create videos for new websites
as well as
collaborate in determining the best video presentation and hosting solutions to suit the client's needs. The video world is rapidly changing, and this combination can deliver the web redesign results clients seek. The image shown here represents a  product of MiniMatters' partnership with a professional web design firm. You can see the dynamic integration between video and graphics on the site.
Video and Fundraising Campaigns
Video is one of the most powerful tools in the fundraising arsenal today. It has the power to invite a potential donor into a community of donors and beneficiaries and makes concrete the impact of programs on real people through personal stories. Potential donors enjoy watching video, too. Today's competitive fundraising climate  requires a suite of ways to appeal to donors, and partnerships make that suite work together. Professionals that specialize in fundraising campaigns, including the sub-field of planned giving campaigns, have made some of our most effective partners to date. Together we can create a warm experience for potential donors that really works, and we hope that the in the coming year we'll hear from many fundraising professionals about partnering.
Video and PR Partnerships
Partnering with PR or marketing firms allows us to make video a key tool in a PR campaign. Videos are one of the most highly shared media in the current environment  and professional video has a huge impact if truly integrated into a PR campaign. We hope that 2013 will expand our opportunities to partner with PR or marketing firms.
Our Partnerships Yield Great Results for Clients
Partnering with experts who share our commitment to quality and customer service and dynamic marketing allows us all to exceed the sum of our parts. We inspire one another and learn from one another, and the client always benefits.
If you're interested in partnering with MiniMatters, or if we can help you with fundraising video, association video, or other video production needs, we'd love to talk with you at 301-339-0339 or via email at

[email protected]

. We serve associations, foundations, nonprofits, and businesses primarily in Washington, DC, Maryland, and northern Virginia.