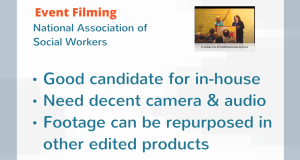 Just a few years ago when we spoke to groups about association video and other nonprofit video, we needed to persuade people of the value of communicating through video. Those days are long gone. Now, associations, nonprofits, and businesses all know that video is a key ingredient in any marketing mix. The questions have moved from "why?" and "now?" to the kinds of questions that start with "how?" Last week we gave a
presentation
at an Idea Swap convened by the American Society of Association Executives, the Center for Association Leadership (ASAE), to answer questions like these, specifically as they relate to association video.
Association Video Question 1: How do we determine whether to use professional video producer?
This DIY video posted by Autism Speaks has been viewed over 1.6 million times on YouTube, and its DIY quality actually enhances it's point—by being unprofessional, in enhances the viewer's identification with Nicole, who talks honestly about her autism spectrum disorder. As a viewer, you recognize that you could do this yourself—and you really could, sitting at your desk. If your organization wants a simple video that connects person to person in a short format, DIY all the way might be the way to go.
Association Video Question 2: Can we create a celebrity video without professional assistance?
Yes, you can. 
The National Association of Social Workers
 may have used a high-level consumer or professional-quality camera to create this video, but all they had to do was point the camera at the podium to create this documentation of Dr. Jill Biden's speech at their national conference, and you don't need a professional for that. Of course this video isn't extremely exciting, and it depends entirely on Dr. Biden's skill to create the kind of storytelling that will interest a viewer, but it serves a purpose, and it may be useful for the kind of inexpensive professionally produced video we'll describe next. If you have a celebrity making the keynote address at your conference, it's really a lost opportunity if you don't point a good camera at the podium.
Association Video Question 3: Can we use a video professional without breaking the bank?
While many different issues impact the cost of video—we broke these down over the course of
four blog posts
recently, and we offer
a discussion guide
that helps organizations assemble the information that will allow us to do an estimate—one way to control costs while still producing a professional look beyond what you could provide yourself is to keep the editing simple and/or use footage you already have. The video we created for the Society of Former Special Agents about Career Day 2012 reflects our professional interview skills, lighting, and other measures, but the editing was extremely simple. It's basically a continuous clip. Another approach to controlling costs is to use stock footage and photos and/or photographs and footage you already have (such as footage you may have taken with a still camera at a conference) with, perhaps a voiceover. This way you save money on shooting time—typically the biggest part of our fee–and still create a highly professional product. The video we created for the American Fuel and Petrochemical Manufacturers, with no shooting time, is another professional and inexpensive video.
Association Video Question 4: What might be possible if our budget's a little bigger?
A bigger video budget will allow you to afford such goodies as:
careful voiceover scripting
professional filming
sophisticated animation
Making full use of a video production company like MiniMatters will allow you to create a video that offers all of these things. We expect to see a lot of videos from the organizations represented by the engaged professionals at the ASAE Idea Swap, and we look forward to serving them for all their association video needs—and no matter what their budget is.
If MiniMatters can help you with business video, fundraising video, association video, or other video production needs, we'd love to provide an estimate through our online form, talk with you at 301-339-0339, or communicate via email at

[email protected]

. We serve associations, foundations, nonprofits, and businesses primarily in Washington, DC, Maryland, and northern Virginia.