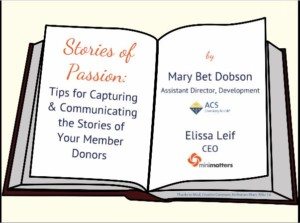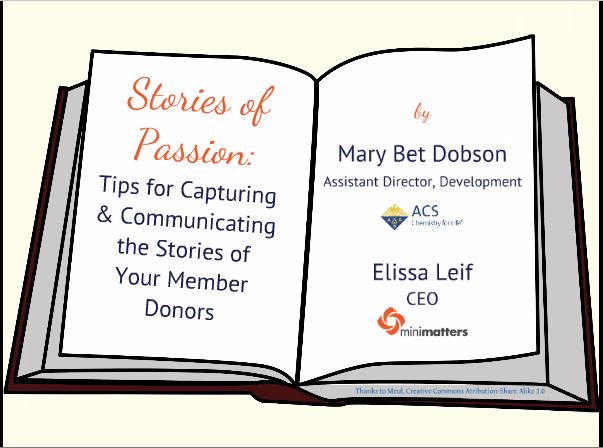 MiniMatters' Elissa Leif will be presenting about association video–and particularly that for association foundations–together with Mary Bet Dobson of the American Chemical Society at the Association Foundation Group National Conference. Their subject: "Stories of Passion: Tips for Capturing and Communicating the Stories of Your Member-Donors." If this is a hot topic in your world, we really hope you'll come say hello.
Great association video starts with storytelling
We're excited to be making this presentation because we believe that storytelling is so important in association fundraising. Storytelling is what can get people to focus on the "why" behind all the meetings, trainings, and guidance your association provides year-round; further, it can translate the heart of your purpose into a moving video that will really aid an association fundraising campaign. Members who have never heard of your association foundation or the association's philanthropic initiatives? Awareness-raising about the wonderful things your association does for society is one of the first things you can accomplish with video. The six association videos MiniMatters created for the American Chemical Society (ACS) illustrate the breadth and diversity of the Society's contributions to society. They also support a set of useful fundraising messages, many of which can be easily translated for other association foundations:
"I wanted to provide opportunities for the next generation to experience the passion for chemistry that I have."

"Once I became aware of the opportunities, it was a natural for me to take the step of planned giving."
"Become a Legacy Leader is a great way to demonstrate leadership in ACS philanthropy."
"ACS is well-managed and a good place for a gift that will have impact."
We really hope you'll be in the audience, but if you miss it—or want a recap!—watch this space, because we'll be posting about the conference next week and the full prezi.
Association video will have an impact
As Mary Bet will attest, the series of videos we provided for ACS seem likely to have an impact on the organization's future. ACS is using the series as a part of long-term campaign that includes sharing videos on ipads, in enewsletters, and at events. By using passionate stories, the ACS has created a set of compelling association videos that engage the interests of their diverse membership. What are the stories of passion in your organization? Let us know in the
comments
!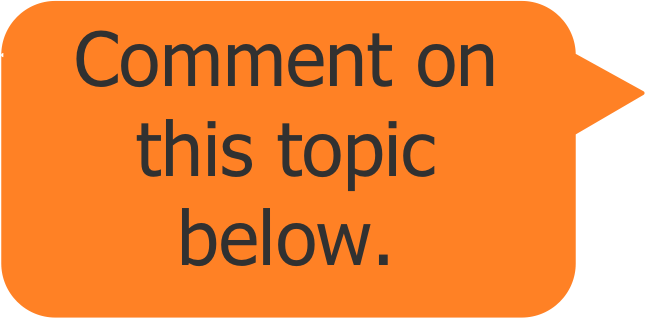 If MiniMatters can help you with business video, fundraising video, association video, or other video production needs, we'd love to provide an estimate through our online form, talk with you at 301-339-0339, or communicate via email at

[email protected]

. We serve associations, foundations, nonprofits, and businesses primarily in Washington, DC, Maryland, and northern Virginia.