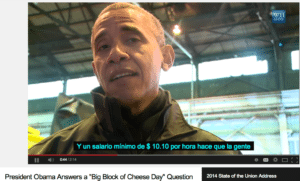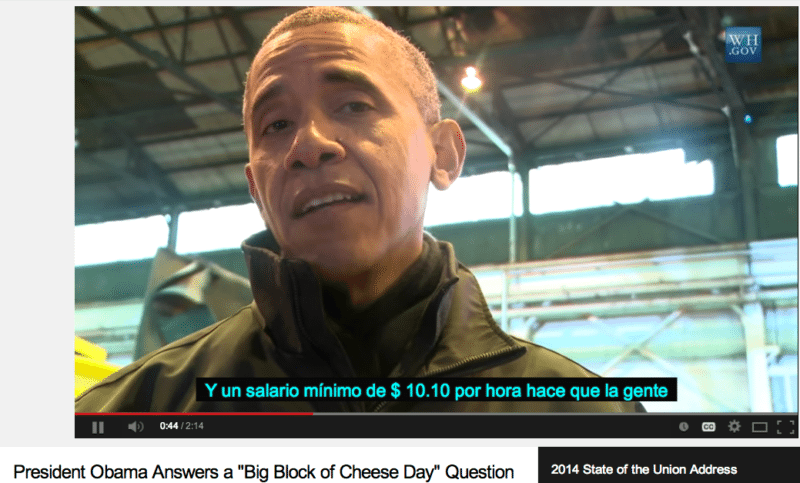 While every viewer is probably going to enjoy a video the most if it's spoken in his or her native tongue, translated captions can get more YouTube views by expanding your viewer base. CNET reported in 2012 that 70 percent of YouTube's viewership isn't in the United States, but the fact is that many people even in the United States are more comfortable consuming media in a language other than English. According to a report by the U.S. census in 2013, 21 percent of Americans speak a language other than English at home. (Unsurprisingly, the biggest group, 62 percent, speak Spanish.)
Get more YouTube views–YouTube makes it easy
YouTube lets viewers use Google Translate automatically to translate captions into 300 different languages. You can try it yourself the next time you're watching a video. Turn on the captions in the video's native language by clicking the CC button. Then click the CC button again and you'll see that the "Translate Captions" button that was previously grayed out is black. Click on that, and you'll get a menu of languages. The image at left shows how this looks; if you'd like to try it yourself here's a video you can practice on. If you read Spanish, we'd love to hear from you about how the translated captions came out.

If a highly accurate translation is essential to your purposes, you need to be careful using this approach that relies on Google Translate. As we found when we selected a workshop with Seven Habits of Highly Effective People author Steven R. Covey dubbed in Spanish, and had the subtitles translated back into English, the results can be a little bit uneven. Sometimes it's possible to discern what Covey's saying, and sometimes it's rendered as complete gobbledy gook, as shown here.

Just as you'll realize benefits by uploading a complete transcript of your video to generate accurate captions rather than relying on the captions YouTube supplies automatically, you'll realize benefits if you get your transcript professionally translated rather than relying on Google Translate. To get more YouTube views through reaching into bilingual communities, you probably want a professional translation. YouTube has a simple path to doing this:
First, log in to Google. Then, visit your Video Manager. Click the drop-down menu next to the "Edit" button for the video you'd like to translate.
Select Captions. Click the Add a new track button.
Select Request translation.
Choose which languages you'd like to translate, then click Next.
The next page provides links to vendor websites and estimated cost of getting a translation.
You may be surprised with a short video how inexpensive it is to translate video captions. Dubbing the audio in another language can enable you to broaden your video's reach, too, but translation is usually less expensive.
Get more YouTube views by improving searchability
Just like a transcript in your video's actual language, which Deaf and hard of hearing viewers will appreciate, an uploaded transcript in a foreign language will be searchable. Your video will come up in foreign-language searches, which just means that more people see your video. Another benefit is that, just as with other YouTube captions, you can change the color of the captions to whatever's most comfortable to you, which is beneficial if you have any problems with your vision.
Beyond YouTube, other video hosting sites will allow you to upload translated caption files. Brightcove says they support the lang attribute in the SMPTE-TT file, which allows multiple languages within a single captions file. It also lets you change the language of the words you see when you mouse over the video player buttons via the Language Options tab–chose from English, French, German, Italian, Japanese, and Spanish. Vimeo also lets you set your player to English, Spanish, French, or German.
In a globalizing world, it just makes sense.
If MiniMatters can help you with business video, fundraising video, association video, or other video production needs, we'd love to provide an estimate through our online form, talk with you at 301-339-0339, or communicate via email at [email protected]. We serve associations, foundations, nonprofits, and businesses primarily in Washington, DC, Maryland, and northern Virginia.