Google published the results of a
study
in September which they did in partnership with Millward Brown Digital of two million Americans who had researched a non-profit within the past 12 months; Pew Research released
a new report on online video
 on October 10. Here are some of the things we gleaned from both studies that might be important for those of us interested in the state of online video use and its implications for nonprofit fundraising and communications.
Donors use online video to make decisions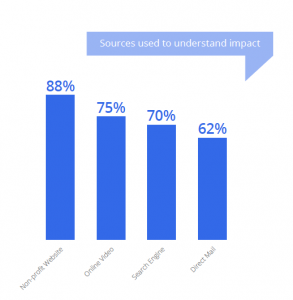 Thirty-seven percent of donors used online video to research nonprofits.
That's a pretty sizable group. Furthermore, the sources used by the largest number of donors were primarily sources that can work in concert with video—nonprofits' websites (54%), search engines (48%), social action network sites (48%), social networking sites (46%), and consumer review sites (42%).
Sixty-four percent of donors use online video sharing sites to research nonprofits. 
Most of these donors are using YouTube, which is the #1 single site where donors watch online video about non-profits.
Online video drives key factors that lead to donations. 
Eighty-one percent of donors said that their perception of impact is the most important factor determining their decisions about donations, and 70% named online video as a tool for researching impact, which makes it second only to the organization's website (88%). Since organizations that have videos usually include them on their websites, we imagine that when respondents listed online video as a discreet tool they were likely referring to YouTube. Eighty percent of respondents described online video ads as extremely useful in research, and 39% went online to research a nonprofit within 24 hours of seeing a video ad, which puts video ads ahead of billboards, magazine ads, brochures/pamphlets, search engine listings, newspaper ads, radio ads, TV ads, and online website ads—and only slightly behind email ads (40%).
Fifty-seven percent of donors made a donation after watching an online video. 
Need we say more?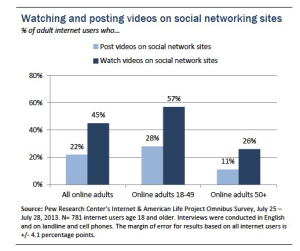 Online video is integrated with other aspects of life
People increasingly use online video to communicate. 
Pew found that 31% of American adult internet users upload or post videos online, and that almost two-thirds of these users post videos they created or recorded themselves. Your target audience may well include these amateur video producers who recognize the power of online video to engage, amuse and persuade–and that's one more reason you may want to use it too.
People watch online video.
Pew's research is notable for finding that 78% of online adults watch or download videos, up from 69% of internet users in 2009. Thus, online video is a medium that the majority of online adults consume.
Online video watching correlates with wealth and education. 
84% of college graduates and 80% of people who attended college watch and/or download online videos. Likewise, 87% of online adults with household incomes greater than $75,000 consume online video. You probably know a lot about the profile of your typical donors, and whether this correlation is another reason to communicate through online video.
Online video can reach more donors
Ultimately, video certainly isn't the only way to reach your donors, but it's a really valuable tool to reach donors and other stakeholders who like to engage with this medium. And the message that your YouTube channel really counts is important, too. If you are not using video the way your donors and stakeholders are, you're leaving some great opportunities for communication on the table.
If MiniMatters can help you with business video, fundraising video, association video, or other video production needs, we'd love to provide an estimate through our online form, talk with you at 301-339-0339, or communicate via email at

[email protected]

. We serve associations, foundations, nonprofits, and businesses primarily in Washington, DC, Maryland, and northern Virginia.
Kristen Purcell, Online Video 2013, Pew Internet & American Life Project, October 10, 2013, http://www.pewinternet.org/Reports/2013/Online-Video.aspx, accessed October 15, 2013. Compete/Google Non-profits Study, July 2013. Google.com/Think.