JSSA – The Jewish Social Service Agency
Planned Giving Days is one of our favorite yearly events, and MiniMatters co-founder Elissa Leif volunteered as a track dean to coordinate the
Ignite presentations
 that were a key feature of this year's conference. This is the first time Ignites were used at the conference, and an example of the forward thinking that the National Capital Gift Planning Council (NCGPC) puts in each year for PG Days.
Ignite presentations are a great way to communicate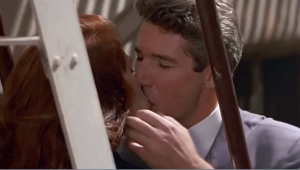 The motto of Ignite presentations is "Enlighten us, but make it quick!" It's a format in which each speaker gets five minutes, and must use 20 slides with each slide advancing automatically after 15 seconds. The first Ignite conference in which people gathered to give and observe Ignite presentations was held in 2006 in Seattle, and many such events have occurred since. Inspired in part by an Ignite session at the 2013
National Conference on Philanthropic Planning
, PG Days had four examples of Ignites. The first was "Uncovering Donor Passion," given by Michael Hutney, the Director of Emerging Media and Strategic Accounts at
The Stelter Company
. It argued that the key way to connect with donors is to understand them through understanding audience data. An early slide about passion (above) actually had an embedded video of passionate encounters from sources ranging from
Grease
to 
Lady and the Tramp
. Short video is an interesting and dynamic addition to the Ignite form, and allowable under Ignite rules.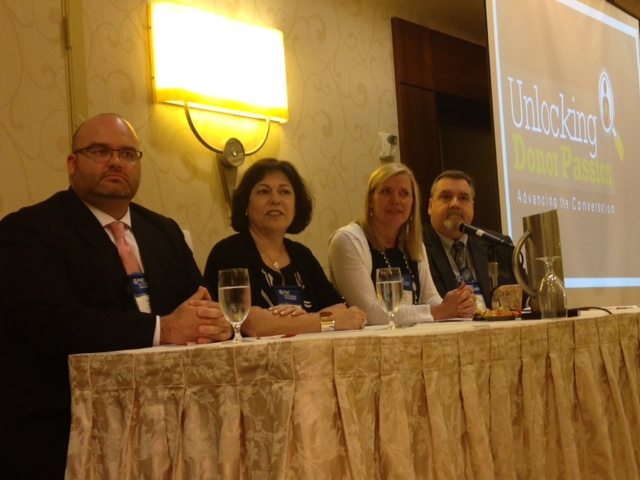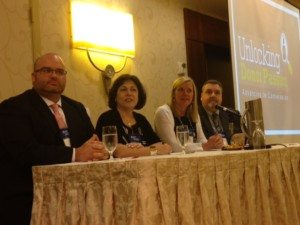 The second presentation, given by  Shira Oler, Director of Gift Planning at
JSSA – the Jewish Social Service Agency
, offered tips about setting up a planned giving program and getting the necessary resources. Her first slide was: "You're hired to build a planned giving program in a department of 1. Oh my!" She managed to convey some of the most important issues of this situation in only five minutes—and with a great deal of humor.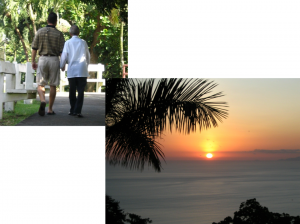 Karen Gallardo, Sr. Director of Gift Planning and Major Gifts at 
AARP Foundation
, gave the third presentation which focused on stories of sharing your organizational mission with people. She shared photos of many wonderful people she had met through her work (her slide is at left) and talked about how planned giving brings people pleasure. She's a very cheerful person and her demeanor reinforced every moment of her presentation. Jay Steenhuysen, Owner of 
Steenhuysen Associates
, gave the last sample Ignite with "How Gift Planners Can Change the World," ending with a rousing call to gift planners to to push, demand respect, take our place at the table, and knock it off in the quest to change the world. Kathy Swayze, CEO of 
Impact Communications
 led an exercise following the Ignites. PG Days participants each shared one point of inspiration from the four Ignite presentations with their table members (and had the opportunity to live tweet their inspirations to a screen). They then worked collaboratively as a table to create a "mini-Ignite" on posterboard and present it to a neighboring table group. There was lots of action in the room, meaningful exchange about inspiration in gift planning, and even some discussion of the ways the Ignite format could be used back at the office or for retreats.
Ignite presentations get their power from speed, multi-media, and brevity
Just like online video, Ignite presentations make their case in a snappy and brief format. It's our belief that the same principles drive the popularity of Ignites and online video—they combine visual and audio, they move quickly, and they're over quickly. Five minutes is in fact rather long for an online video, but the principle is the same—enlighten us, but make it quick. If you were at PG Days this year, we're sure you learned a lot about the power of new media. We know we did. Can't wait to see you next year! We support the event every year.
If MiniMatters can help you with business video, fundraising video, association video, or other video production needs, we'd love to provide an estimate through our online form, talk with you at 301-339-0339, or communicate via email at

[email protected]

. We serve associations, foundations, nonprofits, and businesses primarily in Washington, DC, Maryland, and northern Virginia.