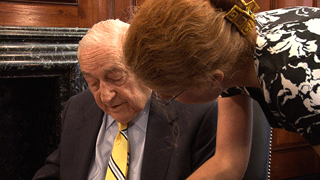 You want a fantastic video product that's professional and compelling. It should speak to your audience and kick your communications strategy up a notch. You have the right to expect all this from a video production company. But making a video is not just a product.
Video production is also a process. And that process typically involves intimate interactions with some of the people most important to your organization. It might feature your donors or your beneficiaries (or both!). It might feature people whose relationship to your organization has been nurtured over decades. These people typically give their time to your video for nothing, and your video producers should make them feel comfortable and valued.
While we at MiniMatters love having our contact at the organization present during shoots, sometimes it's not possible or convenient. If you're hiring a video production company, you need to know you can trust their people to take good care of interviewees. They end up being your representatives during the filming process. By making sure being on camera is an enjoyable and comfortable experience, they will make the video better—but they'll also increase good will towards your organization as a whole.
It's a subtle point that's usually unspoken. Your video showcases your values, but the process that creates it also needs to support your goals and your deeply held values. It needs to protect your relationships.
If you'd like to discuss entrusting your video process to MiniMatters or otherwise employing us to serve your needs, we'd love to talk with you at 301-339-0339 or via email at [email protected].