Embedding videos can really make a text document dynamic. With an embedded video, you realize all the gee-whiz factors of video without taking your audience out of the window where you got their attention in the first place. An embedded video is an intrinsic part of a larger piece, and YouTube makes it easy. Here's what you'll see if you click the "Share" button below a video you wish to share, and then the embed button: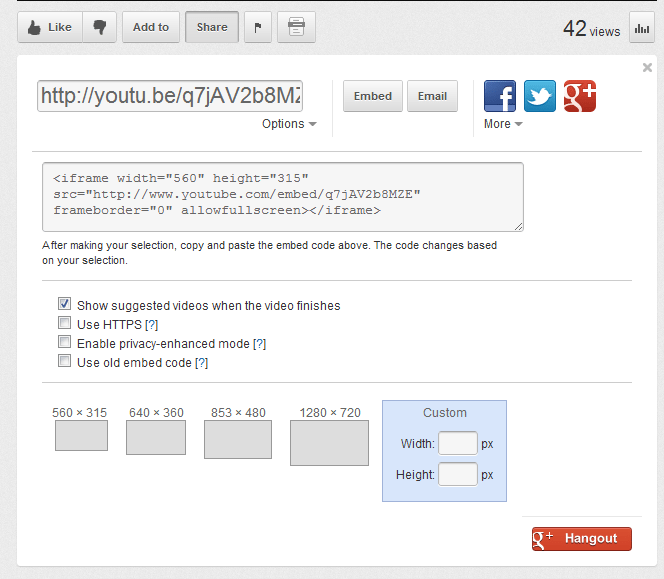 While it's tempting to link a video by using the link, or just grab its URL from your browser's bar, embedding really is the way to go. If you just paste the embedding code that starts with "<iframe" into your html coding, your readers will be able to view your video without switching windows. And YouTube gives you some important options:
The option we find the most important to deselect is "Show suggested videos when the video finishes." By default you'll find that box checked; you'll want to remove the check before you get your embedding code. While YouTube's self-perpetuating nature is part of the reason it's so successful, you have no control over the message of the videos it suggests to follow onto yours. As well, you don't want embedding a little bit of YouTube to take your audience to YouTube and away from your own Web site.
"Use HTTPS" is a practical measure if the site on which you're embedding uses https. Otherwise readers could get irritating messages from their browsers instead of the fun video you embedded.
"Privacy enhanced mode"  restricts YouTube's ability to set cookies for a your readers. (That's browser cookies, small files sent to your computer when you visit  Web sites that keep track of your preferences.) In this mode, YouTube will not store your readers' personally-identifiable cookie information for playbacks of embedded videos.
"Use old embed code" may fix your problem if your Web site refuses the new embed code. The new embed code supports both Flash and html5 vide; the old only supports Flash. (We've never had to use old code ourselves.)
The sizing option can be useful as well, although template settings may override any changes you make. Generally you don't want video to be too small, so the default size may work best anyway. YouTube embedding is particularly useful for
blogging
, not least because YouTube interfaces so nicely with WordPress and other popular blogging platforms. It's a great way to maximize your return on investment in your video and curate and share others' material, too.
If MiniMatters can help you use this tip or serve your other video needs, we'd love to talk with you at 301-339-0339 or via email at 
[email protected]
.