Sometimes your organization knows you need a video, and exactly what you want for the occasion. At other times, you need a video to kick up your communications efforts, and you don't know precisely what the subject should be. An interesting approach to video production is to start your planning process from the search-engine friendliest keywords related to your organization and to build your video content around those words.
Start with keywords and the content will follow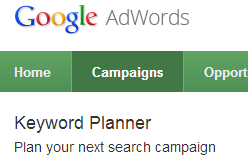 Savvy businesses are definitely approaching video production from the point of view of keywords they want to highlight. But how can you determine the keywords you want?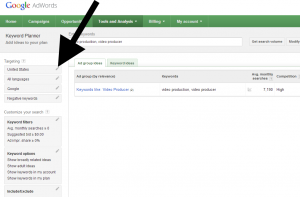 Frankly, it may be complicated. Google offers a
free tool
, the Keyword Planner (you need a gmail login). The tool lets you input your product (we, for example, put in video production) and get keyword ideas. You can also put in a few choices of keywords to see how frequently they get searched. It lets you check things like whether people search "video production" or "video producer" more often. If you serve a specific geographic area, you may want to restrict your analysis to a few states—the arrow on the image of the keyword planner indicates where you can adjust this, under Targeting. A menu like the one below will appear. 

If you serve a fairly specific need, you may have a strong sense of the kinds of searches you want to harness—such as "hospice care Northern Virginia" or "association professionals Washington DC." Think like your target audience, and then let Google tell you what gets the most hits. And bear in mind that quality can matter more than quantity—even if a small number of people search a particular term in any given month, you may want to be sure to attract the attention of all of those people. Google's video "what is a browser" is an interesting example where they may have used a popular search and built a video around it. Certainly Google seems to want to spread its "Chrome" browser, and harnessing that market may be the primary reason their YouTube channel includes this video: "What is a browser" is the kind of query people pop into a search. It also seems probable that most people who search "What is a browser" are people who may want to start using or consider switching browsers—a great Google target audience. This explanatory video based around a strong keyword phrase, and with great benefit to Google, has been viewed
more than 6 million times.
Connect your video production to keywords in video titles
Strategically incorporating your keywords into your
video titles
as well as your 
video content
 is also critical to improving your video production return on investment. Titles with strong SEO power ensure an organic connection between the content of your video and optimal keywords, and that's crucial. Taking this concept further, a common approach to using keywords to drive video views that you have likely seen is using celebrities in videos and their accompanying YouTube titles. A company or organization creates a video that features a celebrity, and they include the name in the video's title. Samsung, for example, posted a video entitled "'JAY Z Blue' – JAY Z + Samsung + Magna Carta Holy Grail" to promote their offer of an app that ties into the artist's new album release.
More than 7 million people
have watched it since June—and no doubt many of them searched for Jay Z, and ended up learning that Samsung had this relationship to the artist.
Video production with the YouTube transcript in mind
It's hugely valuable to have your keywords in your video's content, title and description, but adding on YouTube transcripts when you upload your videos maximizes the advantage of your keywords. While YouTube does have an automatic captioning feature that viewers can toggle on, Google and YouTube ignore this for searching, which is a good thing as automatic captions are riddled with errors. Uploading a transcript with strong keywords connected with your organization and what your desired audience searches for will give your video a higher search engine results position. This, in turn, will give your organization a better search result, and with any luck bring you more of the audience you want.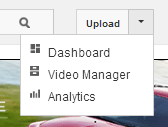 You can type out the transcript yourself—expect to use the pause button more than you would have ever thought possible, but especially for a short video, it's not particularly hard. You can also use a service. There are plenty of reasonably priced services available online, and
Talking Type Captions
 has done a good job for us in the past. Once you have the transcript ready, go to your YouTube channel to upload it. You want to go to video manager—click the little arrow next to "Upload" to the right of the search bar—and then select the video to which you want to add a transcript, click CC+ below the video, and then select captions in the menu shown below.

From there it's pretty easy to upload a file from your hard drive. It's great to have a YouTube channel, of course, for people looking for your videos. But if you can get the attention of people looking for your services or cause 
through 
those videos by making keywords a part of your process, that will significantly improve your return on investment.
If MiniMatters can help you with business video, fundraising video, association video, or other video production needs, we'd love to provide an estimate through our online form, talk with you at 301-339-0339, or communicate via email at

[email protected]

. We serve associations, foundations, nonprofits, and businesses primarily in Washington, DC, Maryland, and northern Virginia.