Video SEO Services are a potentially critical add-on to creating videos for your company or organization.  In this post, we'll focus on two ways that video SEO services can make a big difference in the results you obtain from your videos, by:
Optimizing your website for search engines
Drawing viewers to your videos on other platforms such as YouTube.
SEO and video – how they relate
If you have a website, you probably know a bit about 
search engine optimization
or SEO. SEO is the tech-jargon way of saying that you're doing things that make your site more likely to appear when people use search engines. Whenever someone searches a word in Google or another search engine, the search engine goes through many complex computations and lists the results, ranked by what appears to be most relevant to the user. SEO optimization is a lot of things, but at its core, it means making your content show up higher in those rankings more often, which makes people more likely to see your organization as the leader on a key issue or your company as top choice for a purchase. When done right, video gives you a distinct SEO advantage over the competition.
Video makes you stand out in search results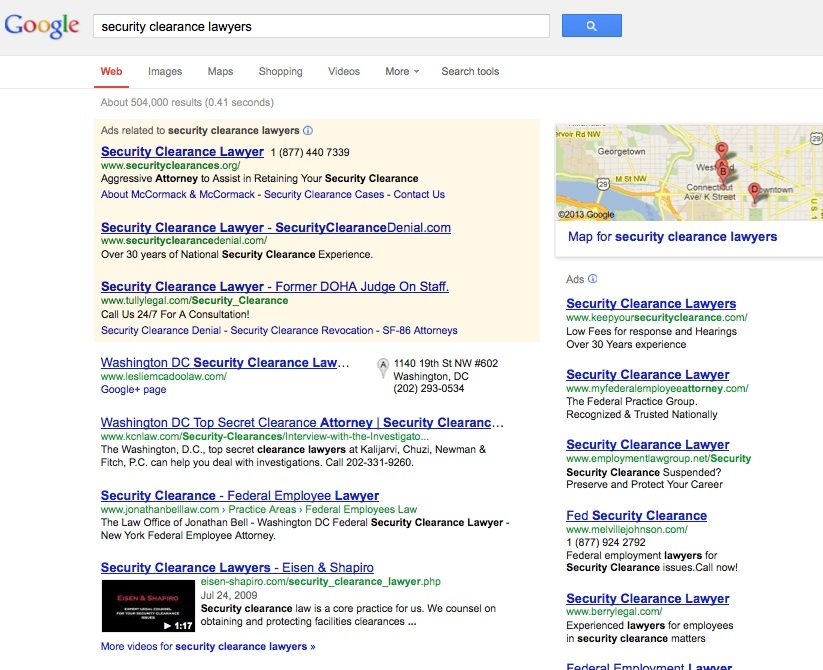 Much attention has been given to a Forrester study from 2009 that found that a webpage with video was
53 times
more likely to to show up on the first page of Google search results.  Google has altered its search algorithms since then and videos have become more prevalent, so don't expect this level of advantage. Still, strategic titling, descriptions, and tagging will help search engines recognize relevant video content, driving people to key pages of your website or your YouTube channel. In this example on the right, a lawyer with a security clearance practice has a well-tagged video we produced, and it comes up on the first page of a Google search for "security clearance lawyers."  On top of that, a video thumbnail appears within the search result, giving his site an instant visual advantage over any other results that are just plain text.  If you needed a security clearance lawyer, which search result would you be most likely to click?  That's how video can really help you stand out.
Video SEO scoring for your website and YouTube channel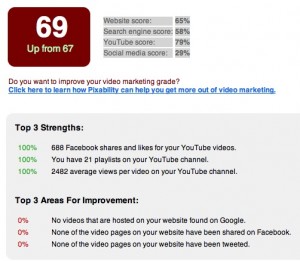 If you're going to take steps to use of your videos to help ratchet up your SEO, you're going to want to benchmark where you stand at the present moment with your videos. One tool we like that can give you a status check on video SEO is
Pixability's Video Grader
. Pixability recognizes that one effective strategy for improving video SEO is to focus on video SEO on your website and on YouTube, and the interplay between the two. Accordingly, the Video Grader gives
both
your website and your YouTube channel a score from 0-100 across four areas:
Website score
Search engine score
YouTube score
Social media score
The Video Grader also comes up with your top three strengths and areas for improvement, which can really give you an idea where to focus to realize the biggest gains. It's also noteworthy that the Video Grader formula places a high value on social media sharing. Brad Miller, Director of Business Development at Fathom and a blogger on SEO,
talks about the new SEO
 that has followed Google's April 2012 Penguin Update, in which
"Politics, leverage, and action will be equally as important as title tags, link building, and keyword themes."
 Luckily, the Video Grader tool is set up to send you monthly updates by email so that you can see the impact of the steps you implement—and you'll likely be seeing the results in your website and YouTube stats too.
Video SEO services to improve video SEO
It's great to have video to enhance your SEO, and when you make a great video, you want to be sure that a lot of people see it. Video SEO is key to realizing the results you envisioned for your video project.  If you are a company or organization that needs to connect with
new
customers, members or supporters, you'll especially want to direct your attention here.  The Video SEO services that MiniMatters provides include:
Titling, Description, and Tagging of Videos with SEO-Optimized Keywords—We'll look at the titling, description, and tagging of each of your videos to ensure consistency, overlapping of powerful key words and phrases, and use of the full description space.
Video Transcripts—We'll create transcripts of your videos and upload them, which not only has an SEO benefit, but  provides accurate captioning that can be toggled on or off. We wrote about the value of YouTube transcripts here.
YouTube Channel Design and Enhancement—We'll make branding improvements to match your channel with your website and other social media; help you organize your channel with the layout most suited to your goals; and organize your videos in playlists, which themselves can be titled and described to increase SEO.  We'll also make sure that your YouTube channel connects effectively with your website and other social media. We've written about the power of an enhanced YouTube Channel here.
Website Placement—We'll consult on placement of your videos on your website using the YouTube embedded player or other online video platforms, making sure you take advantage of key features.
Video Distribution—We'll consult on distribution of your video via email, and through various social media to help you obtain maximum exposure and SEO benefit.  We can also advise about how to encourage your friends and partners to engage with you directly on YouTube. We wrote about why you should distribute your video via email here.
Use Video SEO to get your best return on investment
A video can do so much if it is properly utilized. Whatever video SEO services you contract for or decide to do in-house, video SEO will start with a video and end with more visitors to your webpage.
If MiniMatters can help you with fundraising video, association video, or other video production needs, we'd love to provide an estimate through our online form, talk with you at 301-339-0339, or communicate via email at

[email protected]

. We serve associations, foundations, nonprofits, and businesses primarily in Washington, DC, Maryland, and northern Virginia.