When you decide to create a video, your office or store may come to mind as the obvious backdrop. The benefits of using your office or store include: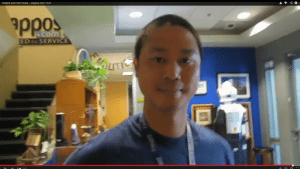 Issuing a visual welcome into your workspace is a way of inviting people to connect with your business or organization.

You'll save money when you use a space to which you already have access.
If your video will feature staff members, you'll have them right on hand.
So what can you do to get your office ready for its close-up? Here are a few key tips and examples.
Create a video that shows your office to its best advantage
Zappos.com has really been a leader in using video to invite the public to check out its products as well as its office culture. In addition to its many shoe and handbag videos, the company's YouTube site has commercials and other offerings; more than 3.7 million views have accrued to the videos on the site. Thus, if you're looking to create a video that uses your office as a backdrop, you may want to check out their
"Inside Zappos" YouTube Channel
, which features hundreds of videos about the Zappos corporate culture. Another fun Zappos video was created by YouTube star iJustine on the day she took a tour: This video perhaps best exemplifies the importance of two principles you want to follow when you create a video showcasing your office, namely, have fun, and make sure you remember your target audience! It's clear that the YouTube star and Zappos employees alike had a great time in the production of this video. The video evokes the feeling that it's fun to purchase shoes from Zappos. Yet at the same time, involving iJustine and her YouTube viewership helped gain attention from a new and valuable potential shoe-buying audience.
When you create a video, subtle signs show your culture
Here are some things to think about when you create a video in your office:
What objects and signs show in the frame? Can you emphasize your branding with a logo, or communicate your culture with an object?

Do interesting things happen in your workplace? All kinds of mechanical processes make good video–especially those which are key steps on the way to a final product.
Can you show people at different levels in the company? Your CEO may be already known to your audience; other people who contribute in unique ways to the company culture or who fit your audience demographic may be more interesting.
Can you invite someone to appear in your office video who has great appeal among your potential customer audience?
And here are some technical tips if you'll be shooting the video yourself: avoid camera shake by putting your camera on a tripod or at least something solid, avoid background noise, and light your video well. If you want to really professionalize it, cap off the video with your logo and a call to action. If you're using your office as a backdrop, surely you'll want to provide a parting message that emphasizes your branding.
If MiniMatters can help you with business video, fundraising video, association video, or other video production needs, we'd love to provide an estimate through our online form, talk with you at 301-339-0339, or communicate via email at

[email protected]

. We serve associations, foundations, nonprofits, and businesses primarily in Washington, DC, Maryland, and northern Virginia.