MiniMatters' client, the medical association The Aplastic Anemia & MDS International Foundation (AA&MDSIF) made very smart use of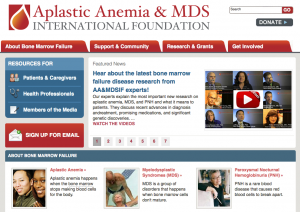 the American Society of Hematology Annual (ASH) Meeting in New Orleans in December: they took the opportunity to make a set of videos. AA&MDSIF Medical Advisory Board members and AA&MDSIF research grant recipients explain important new research in the series.
Since sharing this information with patient and partners is a key part of their mission and function as a medical foundation, cutting edge medical research makes an ideal subject for video.
Making video at conferences and annual meetings is effective for medical associations and foundations
AA&MDSIF reports a number of benefits from making video at the annual meeting, such as:
Because so many spokespeople were available at the meeting, the Foundation could generate a large amount of video content inexpensively in a short period of time. And because interviewees came from both around the U.S. and other countries, it made good use of each researcher's travel investment.
The videos will bring the findings presented at the conference to patients, physicians, and researchers who couldn't attend the Annual Meeting.
Medical association members recognize the cutting edge nature of the information shared at the conference, and may attend next year.
The organization's YouTube channel got a boost from the eight videos produced.
How to make a video at your Medical Conference or Scientific Meeting
Key steps in producing an effective series of videos for a medical association or foundation are:
Be prepared. Make sure the person conducting the interviews is familiar with the research of the doctor or researcher being interviewed. These are smart, busy people who are kindly giving you their time. So come prepared with a small number of good questions.
Be quick and efficient in your interviews. People have traveled a long way and invested a lot to attend meetings, so limit your interviews to about 15 minutes, if possible.
Have a plan to share the videos with those who couldn't attend the meeting or conference. Use your medical association or foundation website, YouTube Channel, and email list to start getting the word out about your videos.
In YouTube, include a full title, description, and keywords for each video. These are often technical topics, so thoroughly tagging the videos in YouTube allow those most interested in your topic to find your video, including members of your medical association.
Medical associations that make the most of conferences should make the most of video too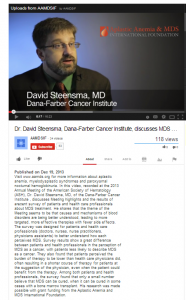 As the image on the left suggests, AA&MDSIF made the smart decision to invest some time in creating full descriptions of each of their new videos. The description shown of Dr. David Steensma's video has 235 words, which allows the video to draw attention to the medical association foundation, its mission, and the video's content. As we've described before, thorough YouTube titles and descriptions really makes a difference in terms of the video's ability to generate traffic and bring attention to key issues.
If MiniMatters can help you with business video, fundraising video, association video, or other video production needs, we'd love to provide an estimate through our online form, talk with you at 301-339-0339, or communicate via email at [email protected]. We serve associations, foundations, nonprofits, and businesses primarily in Washington, DC, Maryland, and northern Virginia.