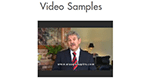 Two weeks ago we wrote about video in PowerPoint; one week ago we wrote about
Last week we wrote about PowerPoint and video; this week we'll talk about improving your presentations by using Prezi and video.
Prezi and video kicks it up a notch
PowerPoint has been blamed for oversimplifying presentations, because it's designed for short bullet points. Yet if you combine PowerPoint and video you may fall in love with the 20-year-old program all over again.
Here's how to add video to PowerPoint: